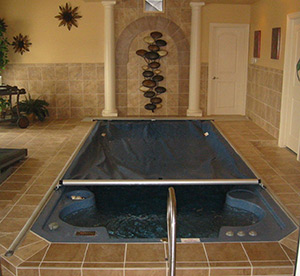 Like any aspect of your home, your swimming pool requires a professional eye and experienced touch when it comes to keeping it functioning at its highest capacity. If your pool is exposed to the elements, you may find that it's not as enjoyable as it once was or different aspects of it aren't as functional as they once were. At the first sign of damage to your pool or to prevent the wear and tear that can bring it to a lower level of quality, choose any of the exceptional services and pool equipment sales that Precision Pool and Covers has to offer you. Through preventative steps and crucial restoration, we'll help you get the most out of your pool. We offer services that encompass:
Automatic pool cover installation: One of the simplest things you can do to preserve the integrity of your pool is to ensure that it's always covered when you're not using it. For a pool covering that's easy to use and operable with the touch of a button, consider an automatic pool cover installation from Precision Pool and Covers. We'll ensure that your pool covering is properly fitted and finely tuned, giving you the power to secure your pool against any external elements quickly and effectively. Already have a pool covering that needs some professional attention? We also service any make or model with automatic pool cover repair, restoring functionality and use to your existing automatic pool covering.
Pool construction or restoration: If you've been thinking about having a pool installed or are looking to refurbish a pool that's seen better days, the experts at Precision Pool and Covers are here to provide you with the best workmanship possible. We have over 25 years of construction and restoration experience when it comes to residential swimming pools and always strive to create a pool that you'll be delighted with for years to come. From completely new, ground-up installations, to pool renovations through swimming pool repairs and pool maintenance in Valparaiso, Lincoln, Saunders County, or Lancaster County, NE, we're a standalone choice for premier services.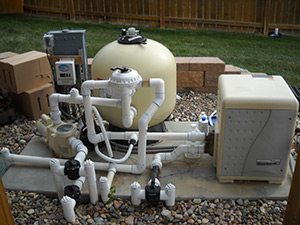 Pool winterization services: Preparing your pool for the winter months is an essential step in preserving it for years to come. Precision Pool and Covers will help eliminate the hassle of draining and winterizing your pool, making it easy to ready yourself for the colder months of the year. We stand by years of experience and industry knowledge, which allow us to properly perform pool winterization services in a quick and cost-effective manner.
Enjoying your pool renovations is easier when you don't have to worry about all of the service, maintenance and repairs that come with it. Precision Pool and Covers is here to make sure that your services are being undertaken by professionals that you can trust and we stand by our superior track record of complete customer satisfaction. From automatic pool coverings and pool equipment sales to complete pool restorations and routine swimming pool repair services, we're your all-purpose pool professionals. Contact us today at 402-784-2171 to see how we can help you today!